Here is a step by step on how to combine VOB files from a DVD movie into a single VOB file using DVD Decrypter.
*Note*
DVD Decrypter is a free download and you should never have to pay for it. You can download it here.
http://www.soft32.com/download/63-77679 ... .5.4.0.exe
STEP 1:
Insert DVD movie in DVD ROM/RW drive. Start DVD Decrypter, select Mode then scroll down to IFO and click.
STEP 2:
You need to configure DVD Decrypter on the maximum output file size. Since Archos uses a FAT32 system, the file size cannot be bigger than 4GB.
Bring up the Settings dialog by clicking on Tools, then scroll down to Settings. In the Settings window select the "IFO Mode" tab, and under File Splitting select 4GB then click OK.
STEP 3:
On the right hand side you will then see an INPUT tab. This will display a list of numbered titles such as PGC 1, PGC 2, etc.
Highlight the one that has the longest running time. It is almost always the first one. That is your movie. Make sure all the chapters and cells are checked in the boxes below.
STEP 4:
Select the destination as to where you want the VOB file to be copied. You can either leave the default destination or select or create new folder by clicking on the icon. Browse for a drive or folder & make a new directory of your choice.
STEP 5:
Click on the large DVD icon as shown in the picture below and wait for DVD Decrypter to copy the VOB to your destination folder. This should be fairly quick since the data will be copied at the speed of your DVD drive. Usually takes no more than 20 minutes.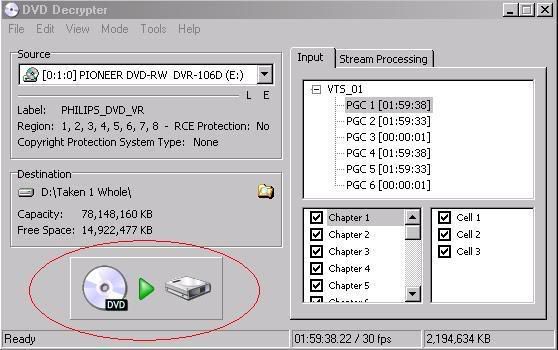 CONGRATULATIONS!! You are now done!!! Your VOB file is now ready to be imported onto your favorite ARCHOS device (404, 504, 604, 604 WIFI) in true DVD resolution 720x480 and true 5.1 surround sound (only when viewed using the DVR docking adapter). Remember, VOB files will only play with the cinema plugin.