The version with built-in HSDPA is targetted at being distributed, promoted, customized by partnerships with carriers in any market that wants it.
The current unlocked Archos 5G with built-in HSDPA is priced at the usual unloked device price. Archos can't be competitive on that unlocked price for now, cause that is simply how that business works. Buying unlocked phones should be ridiculously expensive and its not sold through many resellers like Amazon.com and any other hardware retail resellers.
The HSDPA dongle/docks solutions for the Archos 5 and Archos 7 basic WiFi-only resellers-worldwide-immediately-targetted models could be as following:
1. Mini or Battery Docks with any USB HSDPA data dongle.
plus any of: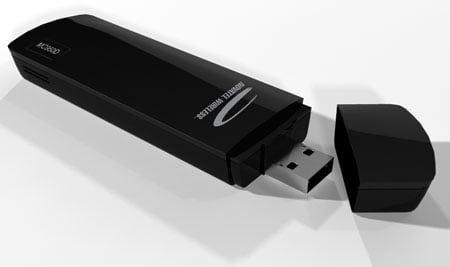 Advantages:
- You can go get the cheap $350 MSRP Archos 5 60GB now, the cheapest online resellers might sell it at a bit over $250 soon.
- There are millions of HSDPA USB dongles out there already today, possibly (depending on confirmation of drivers support) all of them should be compatible with this solution.
- You can share the same USB dongle between your Archos and your laptop.
Disadvantages:
- Really bulky and not so nice looking solution. Plugging a Dock to the Archos is already kind of geeky looking, even though they improved the designs and integrations of the new Docks, and plugging a dongle to the Dock is even more geeky looking.
- Battery life might not be totally as good through USB and Dock as with built-in HSDPA cause built-in HSDPA should in theory be better optimized for lower battery consumption (I'm just guessing here).
2. Archos releases a special smaller Dock made especially to fit a HSDPA dongle within the width of the device. This would be a smaller Dock that would perhaps only provide one USB connectivity and take perhaps only 1 third of the width of the device, the two other thirds would be to host the USB HSDPA dongle, to try and make the different HSDPA dongle designs fit nicely under the device. The special USB-only Dock might not have other connectors such as TV-out and charger connector.
3. The best of the Dock solutions I think, would be a Mini or Battery Dock with a built-in HSDPA sim card slot. If Archos is really really nice, they could also publish a little firmware update for Gen4 and Gen5 which would add HSDPA Dock support to those, even though the connectors are slightly different, they could probably sell another 50 thousand or 100 thousand HSDPA Docks to old Archos device customers which would want to renew their interest in their old devices. So they should think about that.
Advantages:
- No need to connect a HSDPA USB Dongle to the Mini or Battery Dock.
- If I'm not mistaken, all HSDPA USB Dongles have an accessible SIM card in them, which you can actually remove from the Dongle and put directly inside of any unlocked device which has a SIM card slot.
- You could ask your HSDPA provider to not sell you the USB Dongle, but just give you the SIM card directly so you can put it directly in your device, in this case directly in the HSDPA Dock.
- In the case of a Battery Dock design with a built-in HSDPA sim-card slot, this would thus increase your battery life while using HSDPA, which could be a pretty good advantage since using HSDPA might reduce battery life by using a bit more battery power. So the perhaps slightly bulky Battery HSDPA Dock option could let's guess provide 6 hours of HSDPA web browsing or HSDPA Youtube watching or WebTV watching time, which would be pretty cool. All the while having the USB host, charger connector, TV-out all just there as well in the same Dock. If you are planning to use the Battery Dock often for the Archos 5G, this solution would actually look exactly the same.
4. As for the Archos 5G device sold unlocked at $550.
You can buy it and put any HSDPA sim card in it.
It requires a HSDPA service provider that provides SIM cards which can be used in unlocked devices. Perhaps in the USA you might have a problems finding a carrier which would let you use any device you want on their network. In Europe though, many carriers let you use any unlocked device you want, they don't have any device lock-in of any kind, so if you want, you can just ask for a SIM card at your carrier, they send it to you with its pincode in a little envelope the next day, and you put it in your device.
Advantages:
- You've got the coolest device ever made, everything is built-in. If the iPhone was the Jesus phone, this is the God Machine.
- You are so cool, even your Mama can't believe how cool you are.
- You might even have a reasonably prices HSDPA data-centric subscription package, which would be one of the first of its kind worldwide, at least for that type of usage. Since no pocketable tablets have ever been released with such features, based on Linux to work directly on cellular based HSDPA networks without any external Docks or Dongles of any kind. A worlds first basically. And with this you could experience a new trend of using a browser much more often while on-the-go, of browsing for online streaming video content much more often while on-the-go (imagine a situation you need some information on the street, you search on the Google from your Archos which you take out of your pocket, you click on the first Google search result which is a Youtube video, it plays about 3 seconds later and you use that to show your search results to your friends).For example you are somewhere outside anywhere in the city, be it on the street walking around, in the bus, in the park lying in the sun, at the restaurant or at the bar, you think to yourself: "I wonder what the new Dell laptop looks like" or "I would really like to see that 4x100m run by the Jamaicans written about in this free newspaper". Simple enough, about 15 seconds later using your Archos 5G, you might be watching the actual videos of those things in full awesome screen quality.
5. Archos 5G sold for a subsidized price let's guess at $199 with the DVR Station and a two-year $19 monthly HSDPA data service subscription.
Advantages:
- Same as with point 4, but now you didn't pay $550 for an unlocked Archos 5G, but instead you paid just $199 for a locked Archos 5G with the DVR Station (a $650 value, but really a much more likely $400 value though Archos would receive a bit more then $400 probably from the carrier (just as ATT pays Apple probably around $500 per iPhone sold for $199 locked with a 2-year contract)) and with a HSDPA contract that you would have to pay for any ways with the unlocked version. And perhaps also with customized additionnal built-in features which you might not have on the unlocked device like SMS support, IPTV over HSDPA services, customized VOD over HSDPA services, Unlimited Music access and streaming to millions of songs according to the carriers deals with the music majors.
A bunch of other features and services as well as some we could hope for, like a VOIP plugin, which the nice carrier would give you for free which you could use for any combination of proprietary voice (controlled by the carrier according to normal voice plans), SIP (could also be controlled by the carrier and not let you use other SIP service providers), Skype (the carrier can make a revenue sharing deal with Skype on Skype-out calls), MSN-chat, Gtalk or any other IP voice services using the FM Radio Remote or even better a customized FM Radio Remote that has number keypad and a basic LCD to display dialling numbers and show basic information on the FM Remote Control so you wouldn't even have to take your Archos out of the pocket to dial a number. Archos provided a little two-line black and white LCD screen on the Gen3 FM Remote control, so that feautre wouldn't be totally out of the question. My guess is that if any carrier asks Archos to do a special VOIP Dock/Headset-Remote, Archos would be able to implement the idea in about 1 to 2 weeks of R&D.